CBD vs Hemp Seed Oil in the beauty world
After the Farm Bill of 2018, CBD has become widely popular to Americans. Used in different industries, it is now the "new normal" to have CBD oil in our beauty and skincare products, however, it is under higher surveillance from the Food and Drug Administration.
CBD or Cannabidiol, is the second most prevalent of the active ingredients of cannabis (marijuana).
Famously known for vaping or smoking, CBD has anti-inflammatory properties which can provide health benefits to several issues in today's world: Acne, arthritis, cancer-related symptoms, anxiety and depression, and it can help relieve pain.
Let's start with the basics: What is hemp?
Hemp cultivation by licensed growers is now legal in the United States from the 2018 Farm Bill, albeit with restrictions.
The Hemp plant refers to the non-intoxicating varieties of Cannabis Sativa. Both Hemp and Cannabis (often referred to as Marijuana) come from the same plant species, Cannabis Sativa, but share different genetics and usage. Since they share the same species name, they're often lumped into one big family, and there seems to be a lot of confusion around their differences.
CBD derived from Marijuana remains a controlled-substance under the CSA (Controlled Substances Act).
Is hemp oil the same as CBD?
In simple terms, the biggest difference between CBD oil (Cannabidiol oil) and Hemp oil, often referred to as Cannabis Sativa Seed Oil, is where the ingredient is actually coming from. CBD oil is derived from the whole cannabis plant (leaves, flowers, and stalks) while Hemp Seed Oil is extracted from the seeds of the cannabis plant.
It is important to note that there are also different types of CBD oil products:
Full-spectrum CBD oil, which contains all compounds of the cannabis plant, including THC (but at a very low level)
Broad-spectrum CBD oil, which contains several compounds but not THC (CBD and THC share the same molecule formula however they remain different).
CBD oil made using CBD isolate, which contains only CBD
Because these terms are not regulated, some companies may use them interchangeably.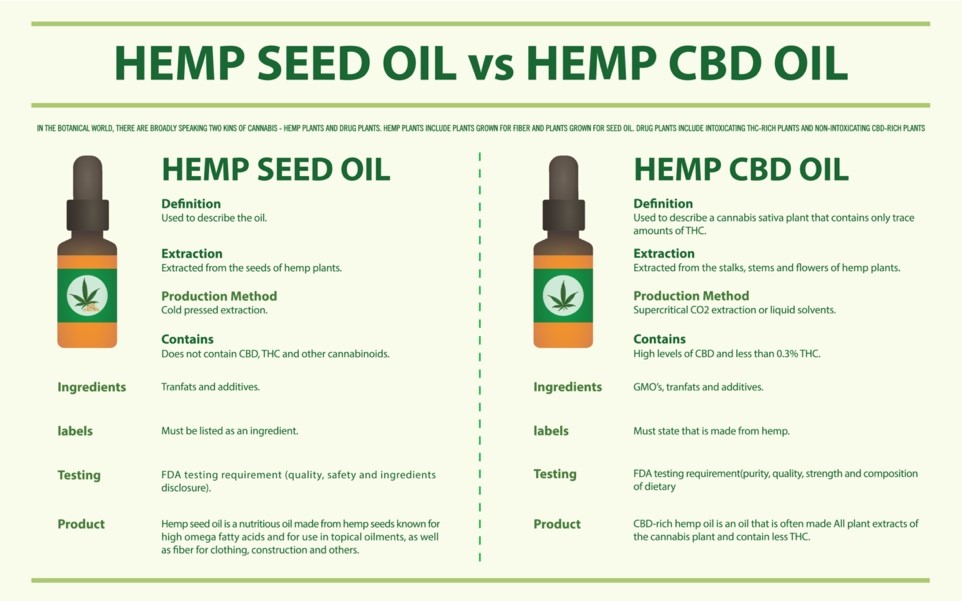 What are the main effects of CBD?
Hemp seed oil has a rich profile of nutrients, essential amino acids, antioxidants and fatty acids. It is known for its anti-inflammatory properties and potent moisturization (without clogging pores) to help keep skin looking and feeling supple, while helping minimize irritation or redness. Hemp seed oil contains no more than trace amounts of CBD and no THC, and does not have any psychoactive effects.
CBD oil is also known for its anti-inflammatory and soothing effects on the skin but contains higher amounts of cannabidiol and can contain THC (tetrahydrocannabinol). It is also commonly used (medicinal purposes) to relieve pain, and in some cases, help in the treatment of anxiety, depression, epilepsy or neurodegenerative diseases.
Both have beneficial properties and ARE derived from the cannabis plant, but Cannabis Sativa Seed Oil contains no CBD, THC, or CBN.
The impact of CBD hemp oil and hemp seed oil in the beauty world
CBD Oil and Hemp Seed Oil have increasingly become the "go-to" ingredient in beauty, health and wellness over the past few years. For example, high vitamin E contained in hemp oil helps to protect skin cells from free radicals. From ingesting it for daily stress relief to applying topically to soothe skin or ease muscle pain, consumers have welcomed the ingredients into their daily lives. However, it remains important to stay educated on the differences between the CBD oil and Hemp Seed Oil, as the differences between the two are much more than most people think.
Discover our new Cool Biotic, redness relief cream with cannabis sativa seed oil: